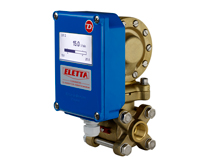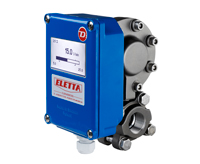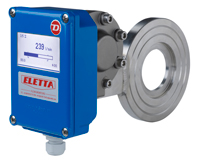 D-series – back lit display and 4-20 mA output signal and HART
The D2 and D5 Flow Monitor is the new model with microprocessor based electronics and back lit digital display.The display can be rotated 90 degrees (electronically) which makes it possible to install the monitor both vertically and horizontally in any piping system.
The D2 and D5 is equipped with a 4-20 mA output signal as well as local alarms and HART protocol. A linearization possibility of the flow  curve is built in and can be programmed by the user. Also included is a re-settable flow totalizer. In order to conveniently set up a flow system at dry conditions, a simulation mode for the analogue, frequency output signal as well as HART can be activated.

| | |
| --- | --- |
| Document name | Avaliable languages |
| Leaflet D-Series | |
| Low Line Pressure V-, S- and D | |
| To specify upon ordering | |
| Manual D Series | |
| Declaration of ConformityEMC directive | |
| Short form manual V S M D-Series | |
| CAD models (STP files) | |
| 3D-models | |
| Product overview | |