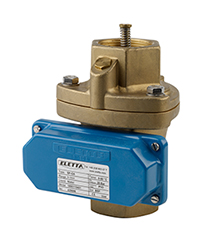 SP-GA – liquid Flow Switch
SP-GA Flow Switch is designed to give an initial alarm at a very low flow and still be capable of allowing a high full liquid flow passing through when pumps or valves are activated by the micro switch. The function is based on fluid flow activation only and threfore it is not affected by changes in static pressure.
SP-GA comes in dimension DN40. You can use reductions for to have it in DN32 or DN25. Filters are available as option.
SP-GA has a mechanical micro switch. You have the possibility to chose a set point from 3 l/min up to 70 l/min. The set point is calibrated from factory and can be adjusted in field. Maximum flow is approximately 300 l/min.
| | |
| --- | --- |
| Document name | Avaliable languages |
| Product overview | |
| Leaflet SP-G SP-GA EF-G | |
| Manual SP-GA | |
| Declaration Low Voltage Directive | |
| CAD models (STP files) | |
| 3D models | |